As Seen on:
Upgrade your car
It gives your car an overall upgrade of style, utility and safety. These lights shines brighter than ordinary DRLs, so extra style, extra visibility with assured safety.
WE STAND FOR
Promised Quality
Fully rubber-coated lights are built with ultra strong material which makes it easy to bend along with waterproof and dust proof.
Remote Function
From powering ON/OFF to changing to your favourite colours, this remote will take care of every task with just a touch.
Super Safe
DRL prevents road accidents by 25%. Opposite traffic and pedestrians could be saved if you have one of these. What could be more awesome than DRL with remote control!
Wide Application
It's easy compatibility feature makes it perfect companion for all kinds of vehicles like cars, SUVs, RVs, trucks, minivans and motorcycles as well.
Water-Proof
It's been sealed so tight that not a single drop of water can touch its circuit.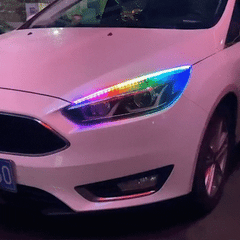 Multi Colors & Multi Modes
These lights have 8 beautiful colors which can do multiple lighting effects by just touch of remote. (Subjected by law: Please keep a stable color while you're driving)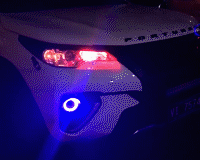 Why DRL Lights
It's been proved by science and approved by many federal governments that, DRL helps see your vehicle by pedestrians and other drivers. They're simply awesome. Because you don't get to choose multiple colors in your regular headlights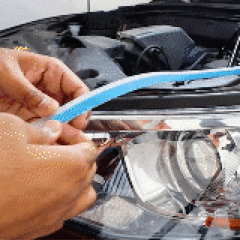 Easy Installation
You don't need your toolbox to install these. Just 5 minutes of your time and user manual from BloomCar will be enough to get these on your car. They're pretty easy to install.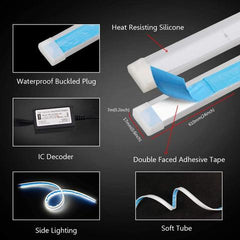 Bends at your will
Due to their built material, they can be bent in any direction you want; they'll be as cool as they are.
WHY BUY FROM US
Super Quality Products
It's only quality products that we believe in. Our R&D Team has always made sure that the product we create is of super quality.
After-Sales Service
We have dedicated team, which is 24/7 available at your assistance for your order.
30-Day Money Back Guarantee
These pedals have 30 Day money back guarantee. So it's assured and secured!
FREQUENTLY ASKED QUESTIONS
- Are these Angel Eyes waterproof?
Yes, they are. Angel Eyes are waterproof and dust-proof, so you won't have to worry about weather or roads.
- Will I have the remote controller with the lights?
Yes, you will. But please note that remote controller is only available for multi-coloured lights.
- How do we connect it?
There are 3 main wires with the Angel Eyes strips: Red (ACC power supply), Yellow (side turn lights) and Black (Ground wire). You just need to install them accordingly or you can contact one of our tech team at support@thebloomcar.com and they'll assist you.
- How do I use them as turn lights?
You just have to connect the wire as mentioned in the user manual. Every Angel Eyes can be use as side turn lights, all you have to do is connect Yellow wire with the (+ve) node of side turn lights.
- Can I cut them as per my car's fitments?
Yes you can. You'll see small sections on the lights, and you can cut the light from there. But we advised you to contact our team before you do so.
- Are these DRL?
Yes. In fact, you can connect them to your headlight if you want and they'll function accordingly.
- What is the expected delivery time?
You can expect your product within 4-14 days, no matter what country you live in.
WHAT OUR CUSTOMERS SAY