As Seen on:
Instant Vibe Changer
Ambient Lights bring instant luxury touch to your ride, because every ride is special.
WE STAND FOR
Built-In Quality
When it's about lighting, no car enthusiast could compromise the quality. We bring you the finest quality of D.I.Y with 360 bending and lost lasting cover on it.
App Controlled
Our designer created in a smart way, where it can be controlled by just an app. It's just matter of touch when you feel like groove. (iOS and Android supported app.)
Universal Fit
With it's 6M length, it could cover your entire dashboard without a doubt and it'll glow all the way. It's for every vehicle out there Cars, Minivans, RVs, Truck and you just name it.
Safe to Use
On one hand they have features like waterproof, low-heat and on the other, it have 12V working power along with short-circuit. Friendly to use.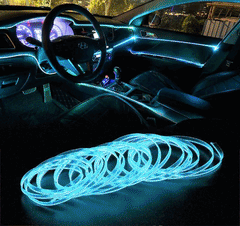 Music Synchro
It's App not only allows you to control colors, you can enjoy the lights dancing with music beats. Now, its YOUR color and YOUR playlist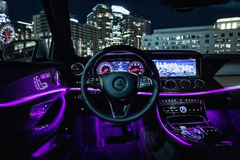 Multi-Colors
It's App mode helps you choose from 16 Million color shades, almost every color you could think of! Art it, Keep it, Groove it'
Super Easy Installation
All you have to do is wedge the flat part directly into a crevice or narrow opening into the dashboard, to avoid 3M tapes and screws. Just PUSH, PLUG, PLAY.
Note:
Multi-Color, Music-Synchro & App Control features are available only if you select the Multi-Color variant at the color selection part.
WHY BUY FROM US
Super Quality Products
It's only quality products that we believe in. Our R&D Team has always made sure that the product we create is of super quality.
After-Sales Service
We have dedicated team, which is 24/7 available at your assistance for your order.
30-Day Money Back Guarantee
These pedals have 30 Day money back guarantee. So it's assured and secured!
FREQUENTLY ASKED QUESTIONS
Will it fit on my car?
Ambient Lights are compatible for all cars make and model.
How can you place them on both the doors and dash?
Installation in dashboard is very easy and you'll receive user manual via email and soft copy will also be provided to you.
What's the length of the Ambient Lights?
It's 5M long for Single Colour and 6M long for Multi-color variant. And this could cover any brand's dashboard very easily.
Can we cut them to fit?
We'd recommend you to reach out to us before cutting them. Although, you can cut them, but you could read our instructions as well.
What will be expected delivery time?
You can expect your product within 4-14 days, no matter what country you live in.
Can we change modes with App?
Yes. Our Multicoloured Ambient Lights have 16 million color choice and different lighting effects. You can control all of them by App controller.
WHAT OUR CUSTOMERS SAY